Hong Kong is a fantastic place to live and work, but you might find it difficult to find quality kids' clothing. The good news is that there are 10 stores where you can buy the best clothes for your children in Hong Kong.
This blog post will give you some great ideas on what shops to visit when buying gear for kids of all ages. So check out these 10 excellent stores and get shopping!
Velveteen for in-store timeless kids' clothing
Why we chose it:
The founders were frustrated with either the sky-high designer brand kids' clothes or the cheap, disposable, fast-fashion that's not great for the environment. So, they decided to create their own clothing that's well-designed and high quality. 
What we like:
With a store in Hong Kong, you get your delivery within 2-3 days if you order online and get store credit for refund requests within seven days.

If you do want to visit the store, it's more than just a clothes shop. There are activities and games to keep your children happy whilst you shop, making it a complete shopping experience. 
What you should know:
They work with family-owned factories to ensure every item is of a high standard and that production is ethical. 

At the shop or online, you can get clothes for newborns right up to 14-year-olds. 
Location:
 

Lee Garden Two, shop 214  – 28 Yun Ping Road, Causeway Bay.

Phone: +852 2505 8100
Beam Bold – for vibrant Caribbean inspired kid's clothing 
Why we chose it:
Beam Bold sells vibrant kid's clothing made of bright colors and bold prints.
Items are made of soft, silk cotton fabric, which means not only are they machine-washable, but they are long-lasting and comfortable to wear.
What we like:
We love supporting independent companies run by strong women!
What you should know:
Each piece of clothing is made to order so the clothes will fit well. 
A lot of their pieces are adjustable; for example, you can adjust all waist sizes by moving a button and have the option of using the extra seam allowance to adjust the sizes when necessary – this helps to extend each piece's life.
These pieces are showstoppers; pop your girl into one of these dresses, and you can expect plenty of compliments.
Orders are filled within 2 weeks. 
Seed – for super cute, fun kid's clothing 
Why we chose it:
Seed Heritage offers adorable clothing that is vibrant and full of color.

If you love dressing up your children with the boldest of looks, look no further than Seed.
What we like:
Seed has a charming selection of accessories such as headbands, sunglasses, and bags.

They also have a great section of gumboots; these are especially perfect for the rainy summer weather in Hong Kong. What better way to battle the rain than a splash in puddles?
What you should know:
Whilst Seed has closed down many of its stores in Hong Kong. Fear not. They still have a few stores open (including the one in Repulse Bay). Also, they offer express international shipping from their Australian website at very reasonable prices.
Retykle – Where to buy eco-friendly kids' clothing in Hong Kong
Why we chose it:
You can expect the clothes on this website to be both of great quality and value, but what really makes us love Retykle is the environmentally-friendly ethos of the company.
By reselling perfectly good clothing, the business model helps prevent good clothing from ending up in landfills.
What we like:
High-quality second-hand clothing 

Brand new clothing, with tags still on.

You'll find kidswear brands like Ralph Lauren, Bonton, and Stella McCartney with up to 90% off the retail price.

Maternity clothing in good condition 
What you should know:
In this online store, you'll find high-quality second-hand clothes for your kids, from newborns up to 14 years old.
Not only do they sell pre-loved, second-hand clothing, but they also sell end-of-line clothing, with over 2,500 brands on board.

Buying from the site comes with free delivery for orders over $300, and you get free returns with refunds as store credit. 
You may have already read about us being big fans of Retykle in our guide to second-hand shopping in Hong Kong. 
Monsoon – one of the best kids clothing stores for party outfits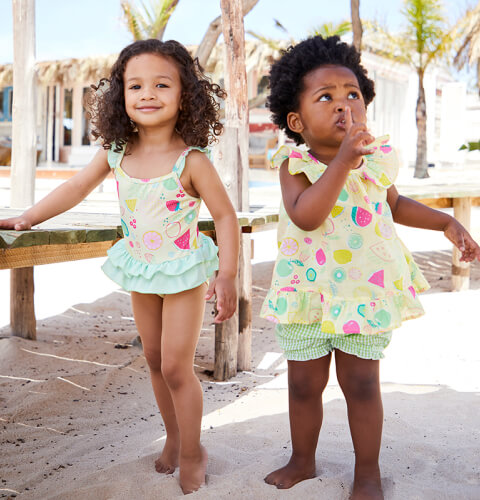 Why we chose it:
Monsoon has a wide variety of kids' clothes from casual wear, party wear, beachwear, and baby dresses.

But above all, Monsoon is best known for its party wear. 
What we like:
If your kids are going to a fancy party or a wedding, check out this store.
What you should know:
Prices tend to be higher than other recommendations listed in this article, but you won't be disappointed with the quality. With an outfit from Moonsoon, your kids will be best dressed at almost any event.

Shipping is free on orders over $750.
Kids Dressmart for second-hand children's clothing in Hong Kong
Why we chose it:
Kids Dressmart is a Hong Kong-based company that is reselling pre-loved kids' clothes.
If people choose to donate clothing to this site for sale, then Kids Dressmart will donate 60% of the sales proceeds to charities working with kids in Hong Kong.  
What we like:
You can shop with a healthy conscience, knowing that you're doing good for the city whilst also getting up to 90% off designer clothing brands.
You'll find kids and baby clothes from Armani, Burberry, and Ralph Lauren, among others, for newborns up to 10 years old.
What you should know:
Kids Dressmart offers free delivery after a certain amount, and you can return anything in its original condition within seven days of receiving it.  

Like Retykle, you can also sell your old clothes rather than throwing them out or hoarding them until one of your friends welcomes a new child. Contact the company through the website to get cash or store credit for your high-quality kids' clothes.
Bonne Mere for timeless, classic kids clothing 
Why we chose it:
Australian-owned Bonne Mere is run by a fashion insider who worked in the industry for 16 years before hitting out independently.

At this store, you will find timeless kids' clothing and kids' accessories. You will find many muted colors – dusty pinks, cream, white, grey, and light blue.
What we like:
The aesthetic here is really pleasing. Everything has a vintage, timeless look and a traditional feel.

This is of the best stores to go to for buying the best baby presents; we really like their bedspread and pillow sets. 
The ethos of the company; quality, design, and value
What you should know:
Delivery takes 10-14 days, so you will need to plan a little. For returns, you can send anything back in its original condition within 7-10 days, but you pay for the shipping yourself.  
Little Islanders for fun yet classic kids' clothes in Hong Kong 
Why we chose it:
Little Islanders is based in Hong Kong and uses Filippino weavers and Hong Kong dressmakers to produce their clothes.

Little Islanders' brand ethos is about modern design and slow fashion, focussing on high-quality, heirloom pieces. 

Aside from the super-happy kids modeling the clothes on the website, you'll also find great design with a clear nod towards Asian culture and style. 
What we like:
Everything has been made with a thought to cross-seasonal wear that is easy and comfy for your little ones to wear to make everything versatile.

Not buying into short-term trends means you'll be able to pass the pieces down through generations. 
What you should know:
Spend more than $800 to get free shipping across the city, or pay $30 for anything under that.

Returns can be done within seven days of your order, with shipping paid for by yourself. 

Nothing will be very cheap from here, but the quality is high, which protects your investment.  
Next – for affordable kid's clothing – casual wear and PJs
Why we chose it:
Next is mainly known for its cute nightwear and casual clothing that can be worn all season long. 

Some of the brands they sell include Lipsy London, Monsoon, River Island, and Mamas & Papas.
What we like:
PJs and everyday casual wear

Shipping is free for all orders over $250.
What you should know:
Prices are very affordable for kid's clothing – you can easily find casual wear in the $100-200 range.
Many products are offered in bundles on Next. For example, they often sell pajamas in sets of three and t-shirts and leggings in sets of three or so. These are often the best deals you'll find on Next.
Cute patterns will tend to sell out quite fast, so don't delay if you see something you like.
M&S – for high-quality and practical kid's clothing
Why we chose it:
M&S, a UK-based brand, is hugely popular in Hong Kong and is well known for its excellent quality kid's clothes. 
What we like:
M&S offers high-quality swimsuits, socks, and underpants, as well as lovely dresses for girls and stylish shorts for boys.
What you should know:
If you go to M&S during the sale-time, you'll find some great bargains.
You can purchase in-store or online via the Hong Kong store website

.

M&S kid's clothing is not cheap, but the clothes tend to be high-quality, and they tend to last longer than many other brands.
FAQs
Where can I buy organic cotton baby clothing in Hong Kong?
Organic Mom is a Korean brand founded in 1995 specializing in producing baby clothes out of all-organic cotton. You can buy clothes for newborns right up to your 12-year-olds.
You can shop in-store at their locations in:
– Causeway Bay
– Sha Tin
– Tsim Sha Tsui
Or get free online delivery for orders over $1,000. 
Where can I buy French kids' clothing in Hong Kong?
You have a few choices for French brands for your kids in Hong Kong. The store La Compagnie des Petits is a French childrenswear company that has five locations across Hong Kong at:
– Causeway Bay
– Kowloon Bay
– Tsim Sha Tsui
– Tuen Mun
– Tung Chung
For French clothing for all the family, Petit Bateau is a French company with a website stocking clothes from newborns all the way to adults. 
Which online stores in Hong Kong sell good kids' clothes?
Online stores in Hong Kong that we like selling kid's clothes are: 
– Seed: super fun and bright kid's clothing
– Retykle: second-hand high-end fashion at low prices
– Bonne Mere: high-quality pieces that you can pass down
You can usually secure free delivery on orders over a certain value. Be sure to check your delivery timeframes because some shops are international, which can make your package take longer to arrive. 
Where do I buy baby clothing online in Hong Kong?
For value baby clothing, try Mothercare in Hong Kong. The prices are very reasonable.
For more memorable and rare items in the city, check out Bonne Mere that we talked about a little earlier. Your baby will look like it popped out of the 60s!
Where can I buy second kids' clothes in Hong Kong?
To get high-end, pre-loved designer kids' clothes in Hong Kong, head to either of the two stores we've recommended here, Retykle or Kids Dressmart.
Where can I donate baby clothing in Hong Kong?
Finally
If you're looking to buy quality kid's clothes in HK, there are plenty of stores that can provide what you need. We've compiled a list of 10 stores we think offer the best selection and prices for children's clothing, so take a look at our handy guide to find out which one is right for your family!
Have we missed your hidden gem for affordable kid's clothing in the city? Reach out to us on Instagram or Facebook and let us know your top picks.
Related posts