Your dog might look perfectly pampered, but are you feeding them the best organic dog food on offer in Hong Kong?
Looking after the tummy of your dog brings a whole range of benefits, such as healthier fur, a happier temperament, and, believe it or not – better poos that are easier to pick up!
You get all of this with organic dog food, which also tends to have higher quality ingredients such as less or even no grains or filler, and organic food will also be non-GMO. 
Buying the best organic dog food for your rescue puppy or purebred should be a priority, and that's where we come in. Knowing you only want the very best for your fur babies, we're going to cover:
The best organic dog food when you give your dog a dry diet

Which organic dog food to buy when you feed your dog wet food

Our favorite organic dog treats  
Plus, we'll answer all the questions you've got about the best organic dog food diet for your fur baby. 
Best Organic Dog Foods – Dry Kibble
1. Organix Dog Food – Organic Chicken & Oatmeal
What's to love?
This

chicken and oatmeal mix

also has superfoods like flaxseed, blueberries, and coconut oil so that your dog can be as healthy as you.

Your puppy will get added digestive enzymes in this kibble with the addition of dried fermentation products.

It's USDA organic certified, so you know it hits the right notes with its organic credentials.
Worth knowing:
The mix contains oatmeal – obvs – and barley, so there are grains inside
How to buy:
Ordering from ePet, you get free delivery over $250 unless you're in a remote area. Delivery can take up to four days, so plan ahead or get a couple of the 4lb bags in advance. 
2. Organic Story – Fresh Beef Organic Dog Food
What's to love?
This is

a Korean brand

that uses over 70% organic ingredients in its recipe

It comes with extra prebiotics and probiotics that will help your doggo digest its dinner

There are no byproducts added to the food, and it's classed as human-grade – although we'd not recommend you try it!
Worth knowing:
The large bags are split into smaller ones, meaning there is more waste packaging to contend with
How to buy: 
Order it from

HKTVMall

 – and it should be with you in no more than four days.
3. Organix Dog Food – Grain-Free Organic Small Breed Recipe
What's to love?
This organic dog food

is specially formulated for small dogs that tend to need extra energy.

There are no grains at all, so no filler included

Your pup will get pre-and probiotics, so if they get an upset tummy, you know this will be gentle for them
Worth knowing:
It only contains 26% protein, which might not be high enough for your expectations.
How to buy:
It's regularly discounted on ePet who does free delivery across the city, or orders over $250. It does only come in 10lb bags, so it might be worth buying a couple of bags at a time. 
4. Organix Puppy Food – Organic Puppy Recipe with Healthy Grains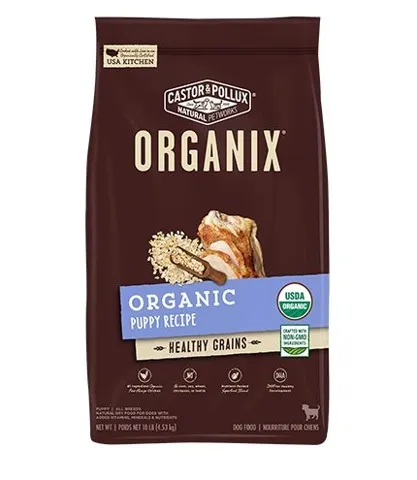 What's to love?
When you just bring your pup from the shelter or home from its parent family, this dog food will give them a great start in life.

There's added DHA to Organix Puppy Food, which is great for your clever doggo's brain development.

You won't get any filler like corn, soy, lentils, chickpeas, or wheat included.
Worth knowing:
Check with the family or shelter where you got your pup from to see what food they were eating before and slowly mix this in; the change could upset their tummy.
How to buy:
As with the other ePet items we're looking at, you get free delivery for orders over $250 across the city. You can buy in bags of 10lb or 4lb. 
5. Wild Earth Kibble Clean Protein Powder 
What's to love?
Not only is this one of the best organic dog foods available, but it's also been developed by vets to be vegan whilst still maintaining peak nutrition for your furry friend.

Wild Earth

is super conscious of its carbon emissions and the mistreatment of animals, so investing in this forward-thinking brand can be your good deed for the day.

They also have an extensive range of vegan-friendly, clean, protein-rich snacks and treats to reward your pooch for that crisp high five you just taught him.
Worth knowing:
Some products are occasionally unavailable due to popular demand
Buying guide:
Best Organic Dog Foods – Wet food
1. I and Love and You Cluckin' Good Stew
What's to love?
Made with chicken meat sourced from the USA

It's gluten-free, so your hipster dogs with their bushy beards can't complain about it making them gassy.

Omega oils and essential fatty acids will give your pooch pal a shimmering coat, primed for scratches and ruffles.
Worth knowing:
This

I and Love and You

product needs to be ordered by the tin rather than in a multi-pack, so make sure you order more than one, or you'll be whined at by a very hungry pet.
Buying guide: 
The Store has this dog food available at a really reasonable price for such a great product.  
2. I and Love and You Gobble It Up Stew
What's to love?
I and Love and You

have provided a turkey stew alternative to their chicken dog food, presumably so that they can join in the festivities at Thanksgiving.

Plenty of veggies to keep those taste buds tingling – your dog's, not yours, hopefully.

No grains or white potatoes, only healthy ingredients
Worth knowing:
Only available in single tins again, so make sure to stock up
Buying guide:
Well-priced at The Store with free, next-day delivery – winner, winner turkey dinner
3. Edgard & Cooper – Organic Beef Coconut Chia Wet Dog Food

What's to love?
Beef, coconut, and chia – sounds like something in a

fancy Hong Kong lunch

!

Edgard & Cooper

is a UK organic dog food brand that meets EU organic standards.

They use real meat, cooked slow, and package it in recycled and recyclable materials.
Worth knowing:
Each serving is only 100g, so if your dog is big, you'll need to use a few or mix in some kibble.
Buying guide:
The price in HKTVMall is per packet, so be sure you buy a good few to save having to wait for deliveries too often.
4. Lily's Kitchen – Organic Lamb Supper With Carrots & Peas for Dogs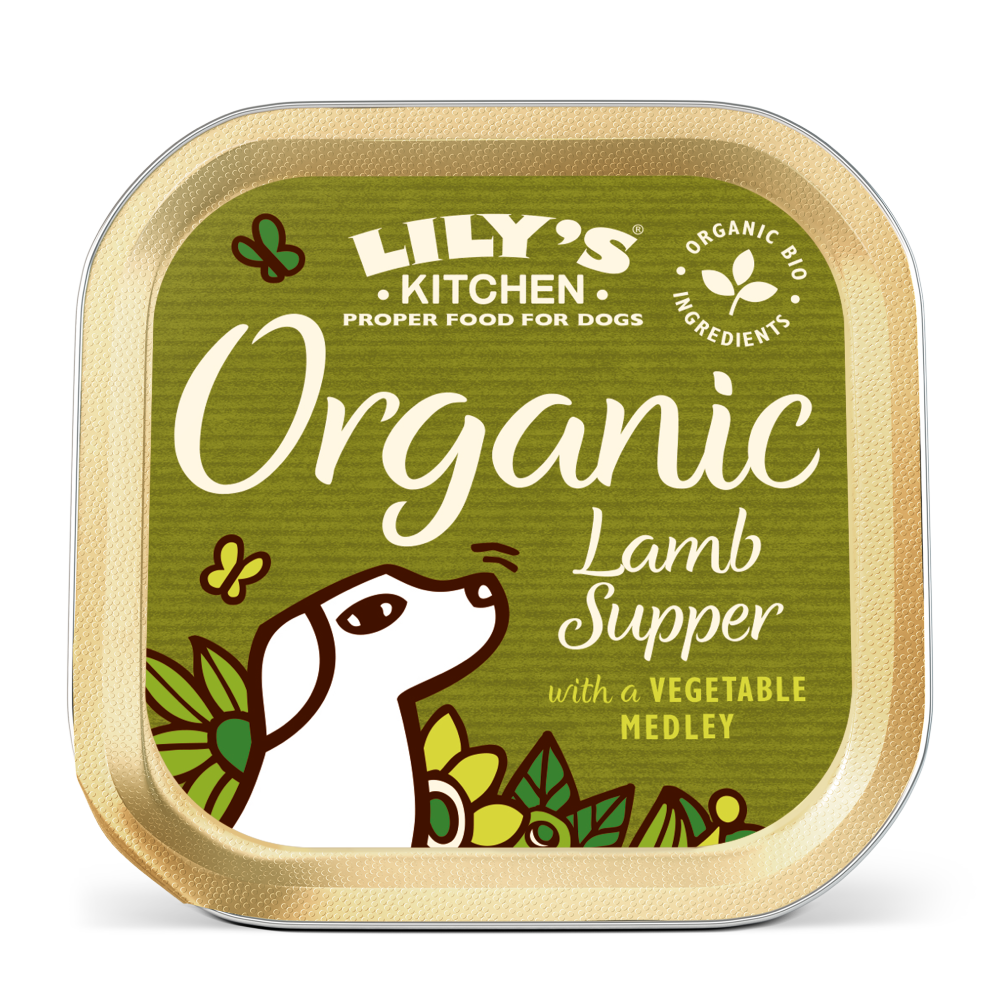 What's to love?
Lily's Kitchen is another UK brand that uses 100% organic ingredients in this meal.

Your furry buddy gets

lamb, pork, and beef

all in one serving – we rarely get such extravagance!

Alfalfa, kelp, and spirulina will also help give your pup all the minerals they need
Worth knowing:
Servings are a little on the small side if you've got a bigger dog
Buying guide:
As with everything on HTVMall, it can take up to four days for delivery. Remember that you're buying one serving at a time, so get enough for your needs. 
Best Organic Dog Foods – Dog Treats 
1. I and Love and You Hip Hoppin' Hearties 
What's to love?
They're made with real chicken and duck and have extra goodness to help your active doggy's joints.

You won't find any artificial colors, flavors, or preservatives in

Hip Hoppin' Hearties. 

With no grain and no gluten included, digestion of these organic dog food treats won't be an issue.
Worth knowing:
Some pet parents report that it can be tough for smaller or older dogs to chew on.
Buying guide:
2. Riley's Organics Dog Treats
What's to love?
Riley's Organics make these tasty treats in

small

and

big bones

, so you can pick the size that works for your furry bestie.

There are only six ingredients, none of which are soy, wheat, or corn.

Your doggo will get a perfect crunch on these treats.
Worth knowing:
Buy one of each size when you first try them; even smaller dogs might prefer the bigger bones to have a good ol' gnaw on.
Buying guide:
3. I and Love and You Fresh All Over Dental Bones 
What's to love?
These are a great treat for your fur baby to get their chops around, have a good chew, and get plaque off their teeth.

There's a simple ingredient list that includes turkey and yogurt.

The bones aren't too big, so pretty much any size of woofer is going to be good with them.
Worth knowing:
Buying guide
The Store is the place to go again, so place an order over $450 for your free, same-day, local delivery. Seriously, we love how easy it is. 
4. Wild Earth Clean Protein Treats – Strawberry Beets
What's to love?
If you've got your dog on a vegan diet with the clean protein kibble we looked at earlier; this is the treat you need

Everything inside is sourced sustainably so you can be sure you're making positive environmental decisions.

The folates, antioxidants, and vitamin C inside these treats could help boost your dog's immune system – no more wet dog sneezes? Heaven!
Worth knowing:
Wild Earth isn't strictly organic – they follow the science of GMO crops and don't see them as harmful and recognize that they reduce pesticide use and are more sustainable.
Buying guide:
5. I and Love and You Dog Sticks 100% Beef 
What's to love?
The beef is sourced from South America, is grass-fed, and the cows were raised without hormones or antibiotics.

It's made from beef tendon and nothing else, so it is lice and chewy

Your dog's teeth will get a good workout, and plaque should be shifted when you give them

this treat
Worth knowing:
There's a fair amount of carbon footprint with these, going from South America to North America for production before coming to Hong Kong.
Buying guide:
You can order these treats from The Store and enjoy fast and free delivery if you hit their terms. 
Organic dog food in Hong Kong – FAQs
What is organic dog food, and why would you use it? 
Organic dog food is produced from meat, grains, and vegetables that have been certified by an authority as being produced without artificial chemicals or from GMO crops. That's not to say there have been no pesticides used, just ones that occur naturally. A good dog food manufacturer will always ensure that their food is balanced and complete, so you don't need to worry about your pooch missing out on the good stuff. They'll be healthy as long as their food is of good quality. You won't do any harm to them if you feed them an organic diet, either.
How to shop for the best organic dog food
The first thing you need to determine when you're looking for the right diet for your doggo is what they need. Big dogs and small ones will need different food, and as they grow from pup to adult and into their senior years, you'll also need to consider their din-dins. It may take some trial and error to find the food your woofer loves, so be patient. Talk with friends who have similar dogs, check reviews, and most of all, pay attention to what your dog is enjoying and keep doing it!
Types of organic dog food to consider 
As with normal dog food, there are two main types of dog food – dry or wet food. Dry food doesn't have much if any smell, is easy to store, and is generally lower cost. However, they can be harder for your dog to digest. On the other hand, wet dog food usually has fewer preservatives, fewer carbs and generally has a higher meat content. If you're not feeding a full tin at a time, you will end up with a smelly fridge, though. See which one suits your dog and lifestyle best before committing to either. 
Dry dog food or wet canned dog food?
It'll all depend on what your dog prefers, and to an extent, how they fit in with your lifestyle. Dry dog food can be more convenient – it usually comes in a resealable bag, sometimes up to 40lb at a time. This keeps costs low. Canned food is generally more expensive and can cause a smell if you have to refrigerate a part-used tin. Even leaving a finished tin in the trash overnight leaves a bit of a pong. However, it's probably healthier for your dog.  
Is grain-free dog food better? 
For some dogs with health issues, grain-free dog food may be better – your dog's vet will be able to tell you more. However, there's nothing to say that grain-free dog food is any better or worse for your pup. Dogs are perfectly capable of digesting grains like wheat and soy. They require carbs in their diet, which can come from grains. Your dog quickly gets used to the food you give them, so changing what they're used to without a health reason can be tough on them and not great when you have to pick up sloppier poops. 
In Conclusion
It's possible to get some of the best organic dog food in Hong Kong from brands such as Organix, I and Love and You, and Edgard & Cooper. 
We all love getting tasty, healthy food, and having it delivered to the door is even better. Buying organic dog food in Hong Kong has been made super simple, with The Store stocking a decent range, plus other sites like HKTVMall fill in the gaps.
Have we missed any tips on the best organic dog food in Hong Kong? If so, please let us know in the comments below.
Related posts